For more than 26 years I've worked in the early years sector. I'm responsible for ensuring my staff are thoroughly trained in safeguarding, and that we know how to protect the health and wellbeing of children we care for.
Now, my role now is in training where I am blessed to further support the sector by developing and creating courses to train and support practitioners in the safeguarding of children across the country.
To give the training value and purpose, we used real life incidents to reflect upon and confirm that we have the correct measures in place to avoid these incidents ever occurring in early years settings.
It is important to me that we learn lessons from these - often horrifying - events  so that we can do our part in making sure it never happens to a child again.
Unfortunately, these terrible events still occur, some so tragic they will always stay with you. One such event  is Breck Bednars story. Breck was groomed online and fatally stabbed in 2014 by 18-year-old Lewis Daynes, who lured him to his flat in Essex following a 13-month online relationship.
This week marks the anniversary of Breck's death. This case broke my heart and affected me so profoundly that my parenting changed forever. For example, now I use a secret text code when my children have sleepovers or visit the park with friends.
I also discussed the events with my children in an appropriate way, to help them spot the signs of this type of manipulation and to increase their vigilance online.
But it's not just parents who play a role in protecting children. Breck and his family were let down on a number of occasions. The Independent Police Complaints Commission (IPCC) investigations found that the person who took Lorin's call lacked the knowledge and expertise of how to handle such reports appropriately. She should have been directed to specialist agencies who are there to support parents who have concerns that their child is being groomed.
Much worse, they failed to check the Police National Computer to see if there was any record of Lewis Daynes. While the case was not pursued by the victim, a record still existed. If they had took the time to check, they would have given Lorin's report the proper attention it deserved. Devastatingly, this error very likely cost Breck his life.
This brings me back to our training and why I feel it's important to share Breck and Lorin's story. It's important to her that others do not lose what she did that day, and this resonates with me so thoroughly that I feel compelled to  train others in this area of safeguarding.
It's also why we have released a free e-safety course for parents. This has been designed to provide families with confidence, so they can identify and tackle the risks children face when they're online.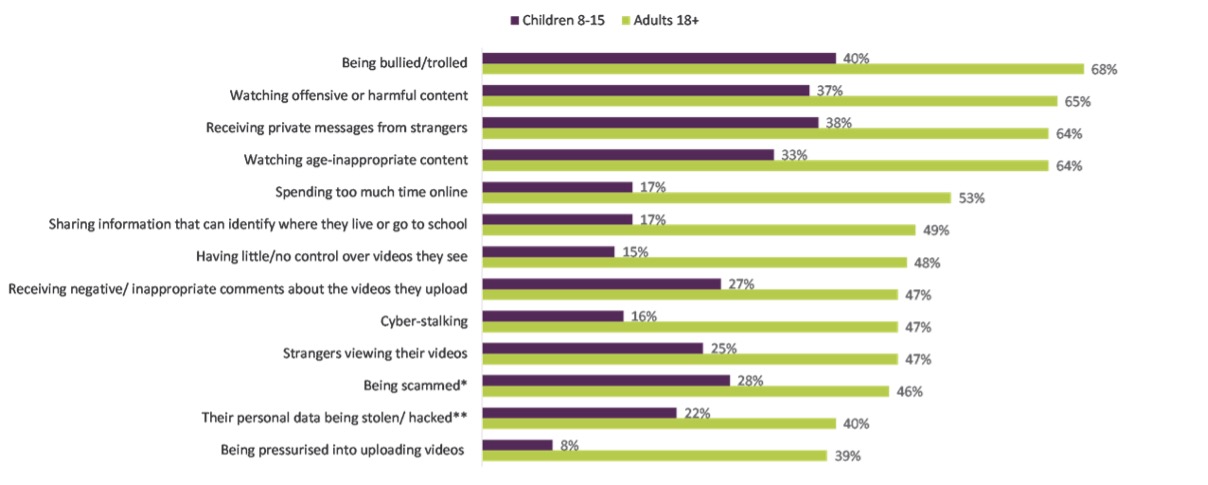 Chart above shows the most reported concerns about internet use.

Ofcom also recently reported that 87% of adults – and 79% of 8–15-year-olds – have concerns around children using social platforms such as TikTok and YouTube. Bullying, trolling, harmful or age-inappropriate content and receiving private messages from strangers are among the top concerns.
The hour-long course will be free until mid-March, and the session will cover social media, sexual content, discrimination and extremism, digital footprints, sexting, grooming and cyber bullying.
Sign up to learn what you can about e-Safety - Click here to assess your course
To read more and find out how you can support the Breck Foundation, you can visit their website here.